CSSA 2023 Convention Details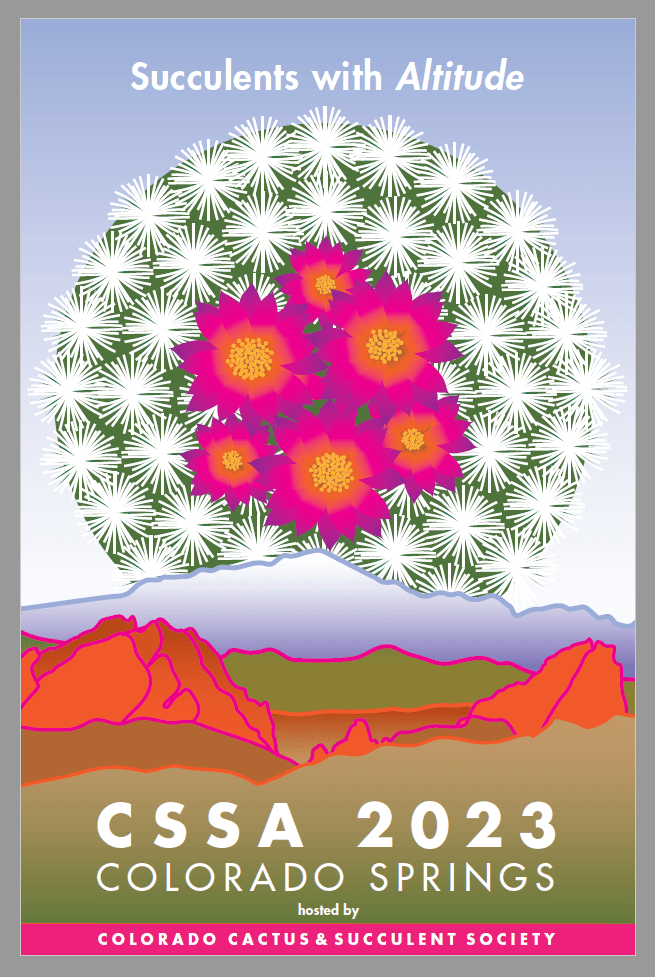 As you all know by now, we are fortunate to be hosting the national biennial Cactus & Succulent Society of America 2023 Convention in Colorado Springs July 12 to 16.  The last time the convention was in Colorado was 1984!  We don't get this chance very often. 
If you are like many of our members, you may be in the habit of showing up to our CCSS sales and pitching in where needed.  Thank you!  HOWEVER, THIS SYSTEM WON'T WORK FOR THE CSSA CONVENTION.  We need to be assured that we'll have enough volunteers to cover our bases, so please use the sign-up genius HERE.  Volunteers may have opportunities to shift to areas of highest need rather than being tied to a specific job.
If you volunteer for one 4-hour shift, you will be able to choose one day of the conference to attend at no cost.
If you volunteer for two or more 4-hour shifts, you will be entered into a drawing to have the entire conference comped.  CCSS has set aside funds to comp 10 volunteers through this drawing.  Alternatively, you will be eligible to attend the entire conference at the reduced rate of $150. 
While all of the volunteer positions are critical to a smooth-running convention, top priority volunteer opportunities include:
Helping with conference prep on Wednesday.
Helping with cash registers during the plant sale on Thursday night through Sunday
New Opportunity:  We need 2 people to use their own cars to drive attendees to the Pikes Peak Cog Railway and then drive them back at the end of the adventure.  Specific times are on the sign-up genius.
If you don't have a preference, please consider these positions first.
TWO MORE IMPORTANT BITS OF INFO:
As either a volunteer or a conference registrant, you are eligible to attend the early bird plant sale on Thursday night.
IF YOU NEED HELP WITH LOGISTICS including transportation (carpooling) or wish to share accommodations, send an email to devraebr@gmail.com.  A list will be created that can serve as a kind of bulletin board with needs and contact information to help people connect with each other.
---
Click Here for CSSA Information
---